The weather on Thursday in UAE in the country is expected to be hot in general and hazy at times during the day time, the National Centre of Meteorology (NCM) said.
The cumulus clouds may increase over the eastern area and inland regions in the afternoon with the possibility of rainfall on those areas, the weather office said.
The strong winds are expected to blow in dust and reduce visibility with a reduction in road visibility to less than 2,000 metres on Thursday.
Temperature may also decrease, according to the NCM.
Light to moderate winds in general, freshening at times during afternoon. Winds will veer southeasterly to northeasterly, 12 – 24 kph, reaching 34kph at times in the internal areas during day time.
Sea will be slight to moderate in the Arabian Gulf and Oman sea.
Maximum temperatures will surge to 48°C inland, with lows of 23°C expected in the mountains.
The highest temperature recorded over the country on Wednesday was 45.9 °C in Madinat Zayed at 3:00pm while lowest temperature recorded today morning was 25.6 °C in Jais Mountain at 2:15am, the weather office said.
Temperature to drop gradually
The outlook for the coming days is more of the same, hot in general during the day time, partly cloudy  and hazy at times. Light to moderate winds freshening at times over some northern areas, causing blowing dust and poor horizontal visibility over exposed areas.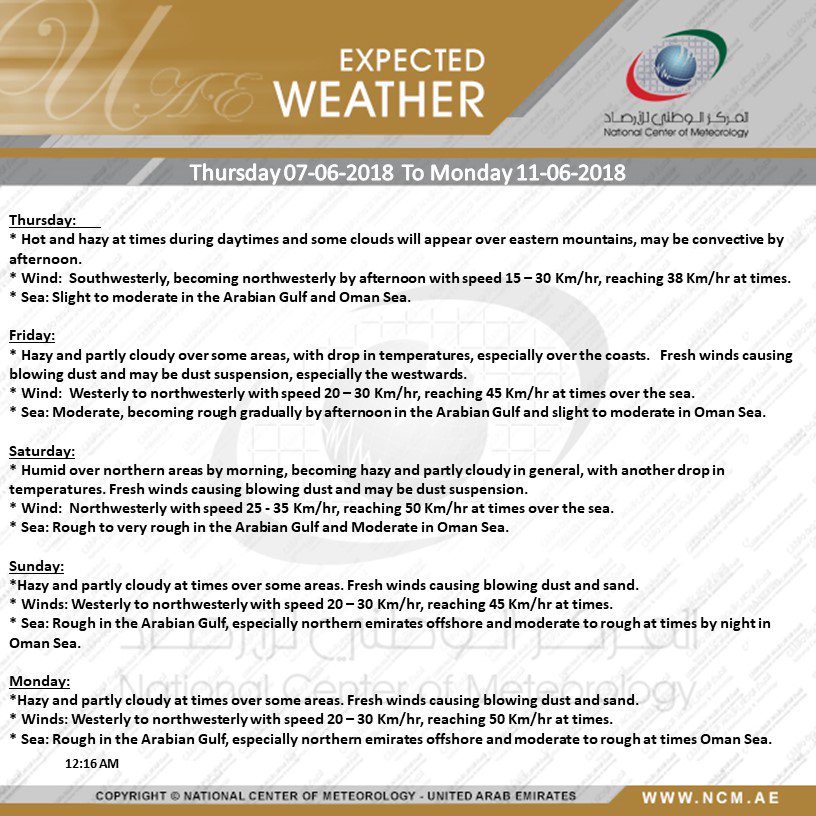 On Wednesday afternoon, moderate to light rainfall was also reported in Al Ain, the NCM had tweeted. According to the NCM the Malaqet as well as the Khatam Al Shaklah areas in Al Ain have received light rainfall.
By Web report  https://www.khaleejtimes.com